Consider this scenario. It is a Friday night and you've asked your significant other out to a movie. You take your phone out and run a Google search for the nearest theatre. The first one to come up is "ABC Cinema". It appears on page 1 of Google. It has 147 reviews — most of them positive. One of the reviews was left last week. You see ABC Cinema has a Yelp profile, a business address and profile on Google Maps, even photos of the place. On the website you find movie times and contact information. The only problem is, it is all the way across town, 30 minutes away.
You keep scrolling through Google.
"XYZ Theatre" doesn't appear until page 3. It has no reviews. You go to their Facebook page and it hasn't been updated since 2013. There are no photos of the place. You click on their website and it looks old.
You wonder, is this place even still open? XYZ Theatre is closer, but what will it look like when you get there?
You decide to take the sure bet and drive across town.
This is an example of how being present and findable online can earn you business. Chances are, no activity online is not a good thing. There is a reason why ABC Cinema has that many reviews and activity. If a business cares about their marketing, it shows they care about their public image, which typically translates to a higher level of service being offered by that particular business. At least that is how a growing number of consumers see it, especially millennials.
Think about how this applies to your dental practice.
In a recent study, 41% of people said social media would affect their choice of a doctor (Source). When a patient shops around for a dentist, what conclusions would they draw if they came across your Facebook page? Would they see a page with activity and engagement? Would they find a business Facebook page for your practice at all?
Websites and social media profiles are often referred to as your "virtual storefront". Do you hold your virtual storefront to the same standards by which you manage your physical office?
Here are four simple tips to get your digital marketing off the ground.
Tip 1: Have a mobile-responsive website, Facebook and LinkedIn profile
Digital marketing strategy begins with simply having a website and social media business pages. As far as your website, be sure it is "mobile-responsive" meaning it is optimized for users on a mobile phone. 55% of all online activity is on a mobile phone, and some studies show this will climb to closer to 75% by the end of 2017. As far as social media, Facebook and LinkedIn are still the top players for small businesses.
Tip 2: Add your business to Google Business and Yelp
When you add your business to Google Business, you are giving your business a profile that Google users are now expecting to see when they search for a business.
If you don't have a Google Business profile, it looks like this: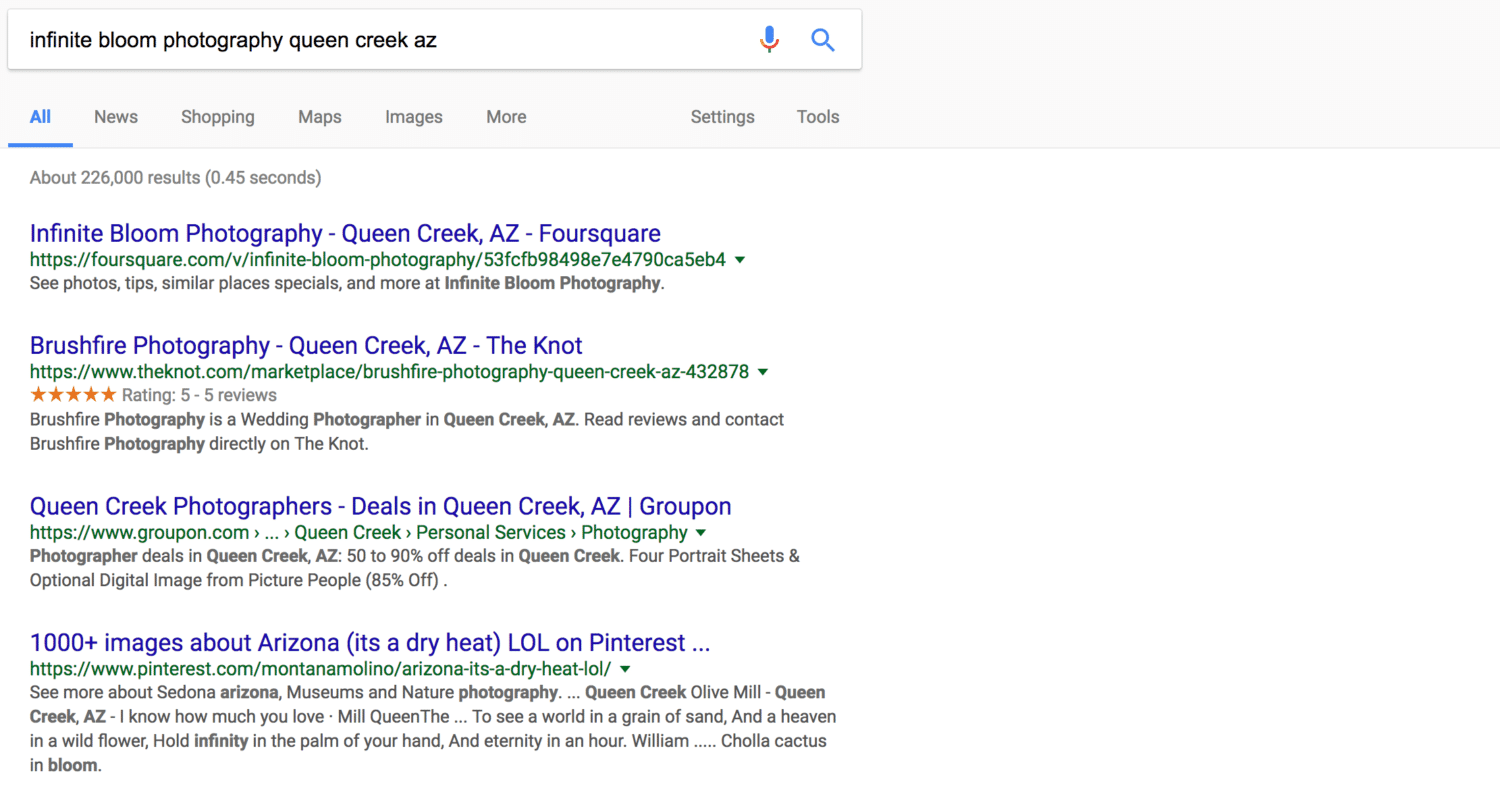 As apposed to this: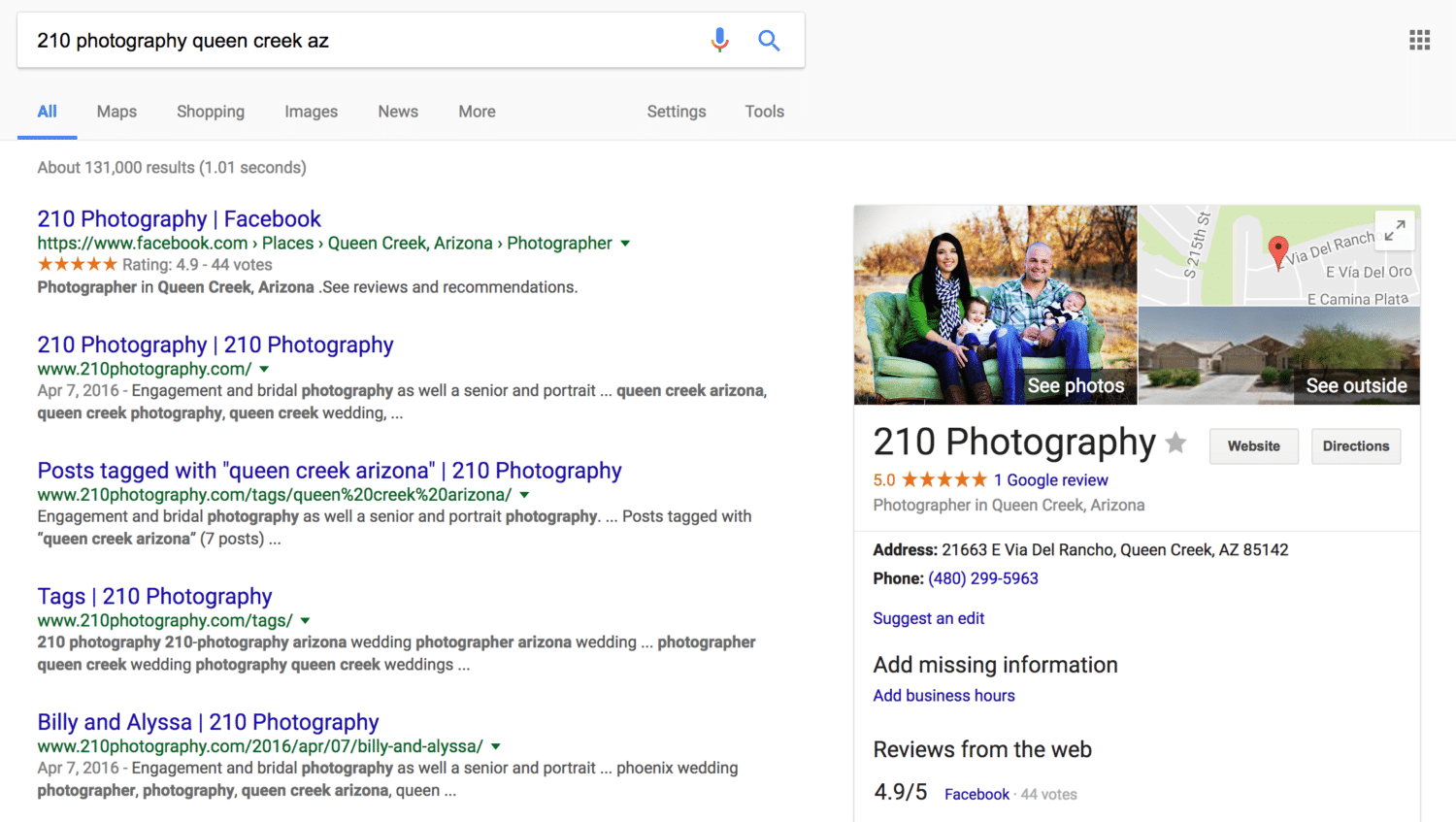 See how much free advertising space you get if you have a Google profile? If you are not taking advantage of this free marketing, you are really missing a huge opportunity. Not only that, but you are potentially hurting your business.
Refer to the photos above, which photographer would you choose? Given its lack of presence on Google, Infinite Bloom Photography will likely not even appear in Google's search results unless you search for it directly. As a potential customer, I'm not even sure, based on this search, that Infinite Photography is still in business. I certainly won't waste my time trying to find out, I'll just move on to the next photographer down the list. On the contrary, 210 photography not only has a business profile on Google, they took it a step further by adding a sample image to their profile, so people can see exactly what type of photographer they are.  
Tip 3: Get active
Especially on social media. If your website is current, mobile-responsive and professional, you can then focus your attention on social media. It doesn't have to be time consuming. Aim for, at a minimum, one posting per week.
Ideally you'd want to be posting 3-5 times a week. Check out tools like Hootesuite which can make it easy to schedule out your social media postings. This way, you can simply log in at the beginning of the month and schedule out your posts to release throughout the month.
The idea is two-fold:
To put your name in front of your social media following, and in the process you are building brand recognition and providing some value to your audience, which they will appreciate!

To let occasional onlookers and potential patients know you are active in your business. It is the equivalent of having someone greet the patients when they arrive at your office. It lets them know "we're here, we're attentive, and we are interested in providing value to our patients."
When you get more comfortable with social media, you can actually use posts to generate new business through advertising and advanced targeting methods!
Tip 4. Attract online reviews
Managing your online reputation can be tricky. Often times, asking for reviews is seen as unethical, or even illegal in some cases. As a general rule of thumb, understand there is a difference between asking for reviews, and soliciting reviews.
If you are offering a discount or incentive in exchange for a review, this is at best poor business practice and at worst breaking the law in some cases. However, there is nothing wrong with reminding customers you are on Yelp / Facebook / Google and letting them know you welcome their feedback on your service.
While many businesses shy away from this approach because they are afraid of the effect that a potential negative review would have on their reputation; on the contrary, this approach actually displays confidence from the part of the business to the consumer. This confidence plays into the psychology behind the user experience. It says to the consumer: "this place of business is so confident about the experience, product or service they are providing, they are seeking my feedback on a public forum." Therefore the consumer comes to expect a great experience.
As far as negative reviews go, just remember, if you are seeking feedback, you should expect a bad review every once in a while. It is inevitable. The important thing is to remember that, the more reviews you receive, the more accurately the reviews are likely portraying your product or service. Thus, worry less about receiving negative reviews, and focus more on the quality of care and the level of service you are providing. Then let the chips fall where they may.
In addition, it is always a good idea to stay on top of reviews and communicate with the reviewers. Thank users for their review, good or bad, let them know their opinion is valid and that it is valuable to your growth as a business. Keep your response short and avoid being defensive or argumentative, even if the review was unfair. This will reflect well on you to other onlookers.
Summary
Remember, the sentiment in today's culture is, if you aren't online, you don't exist. While some may view this as a challenge, it can also be a big opportunity for small businesses who are intentional about their marketing efforts, specifically in the digital marketing realm.
It doesn't have to take long, and it can be a task delegated to your admins or support staff. But it is absolutely imperative to the long term success of any small business, and your dental practice is no different.